FjwW Support

Alle bestanden en plaatjes zijn voor instructionele doeleinden en behoren bij de FjwW software.
"ARDF-FjwW is a windows program in cooperation with the chip cards system SPORTident® of the AES Arnstadt company and makes possible the evaluation from small to the biggest ARDF contests." (bron: ARDF-FjwW website van Karl-Heinz Schade DL7VDB)

FjwW - beeldbeschrijving van het programma (in het Duits) oude versie

FjwW nieuws (software updates/release notes)

FjwW website (home of ARDF-FjwW and FjwMap software)

FjwMAP software (latest version download via FjwW website)

Namenliste-uni for FjwW (latest zip with 3 Namenlist files via FjwW website)

FjwW (v16.10) windows helpfiles (unzippen en lokaal opslaan, dubbelklikken op CHM file van gewenste taal)

FjwW "Display of Results" setup + verklaring van het Zoekvolgorde venster in de resulaten

FjwW "Hard- en Software overzicht"

FjwW "START station wireless" setup (using xBee 868 modules)
<home>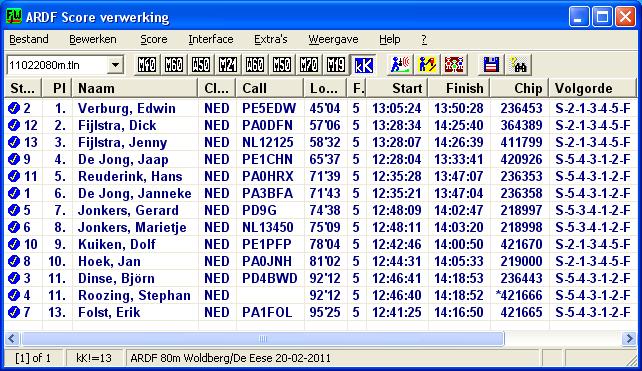 Screenshot van een wedstrijd die met FjwW en SPORTident is gelopen
Webmaster: Edwin (pe5edw@veron.nl) - Last update: 26-Feb-2017